ThyssenKrupp is making roads out of metal?
ThyssenKrupp has found a way to produce an asphalt cover material from refuse from the steel manufacturing process. In conjunction with its partly owned DEUTAG, they have created LiDonit. LiDonit is a synthetic mineral substance produced using slag from the steel melting process in conjunction with calcium and silicon oxide.  "This creates a high volume of stability and equally strong firmness". "Mixed with bitumen, fiber and mineral substances the resultant material assures cars of a better grip on the road while protecting the pavement from heavy loads." In reusing a refuse material for another purpose, ThyssenKrupp has found a way to step into the Green Movement.
This material will cut down on the natural stone that would have to be broken out of quarries, reducing the footprint on natural resources.  Slag has finally been found to be more than just waste.  Steel works No. II of ThyssenKrupp Stahl AG in Duisberg-Beeckerwerth, Germany is the only plant in the world where slag is being stabilized. After the slag is separated from the steel it is carted away, where additives are added and mixed to produce the LiDonit material. It is then poured into beds that have been created for this purpose. This process continues for several days in a row. Left for a week to cool, it solidifies with total evenness, after the cooling period bulldozers remove the material.  The material is then "cracked down into different granulations" for use with asphalt.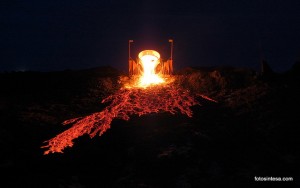 Loaded train cars filled with slag have been dumped from the other steel mills for years, creating large deposits of this unused resource. How much better for the environment would it be to use this product worldwide? How would this impact the world's natural resources? Can other useful products be manufactured from steel production refuse?