Microsoft's Surface Duo Brings Two Displays into the Palm of Your Hand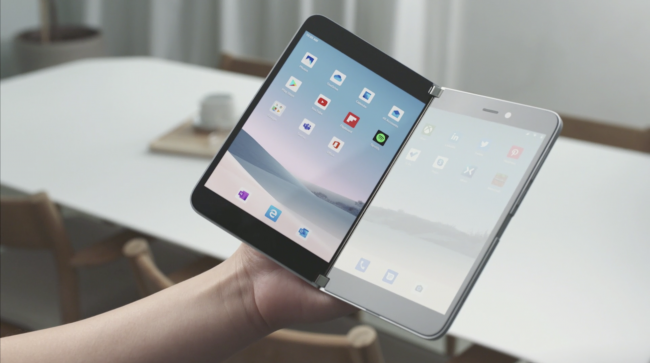 Ever since Microsoft discontinued the Windows Mobile platform and its Lumia brand of smartphones, fans hoped for a Surface Phone. After years of speculation, Microsoft finally presented a home-brewed smartphone. Sort of. The Surface Duo can do everything that a typical smartphone can do, and then more.
The main takeaway here is that the Duo has two displays, divided by a tint 360-degree hinge. Oh, and that it runs Android.
Yes, the first Microsoft smartphone in years comes with Android. The reasoning is that Android is the most advanced mobile platform. Every other Microsoft product comes with Windows, itself the most developed 2-in-1 and laptop platform. And yes, the Surface Duo will also come with the Play Store installed. Microsoft even collaborated with Google on bringing dual-display optimized apps to this device.
Ah, yes, the screens. Both of them are 5.6-inches in diameter. Between them, a 360-degree hinge. Microsoft is known for its hinges, and it seems like they put everything they know here. Thanks to the advanced hinge mechanism, you can use the Surface Duo several ways.
As expected, you can open it and use both screens side-by-side. According to Microsoft's ace Panos Panay, the company "knows that people are more productive with two displays for a fact." Given the fact that the Surface line has always been about productivity, it was expected that their smartphone would be focused on that as well.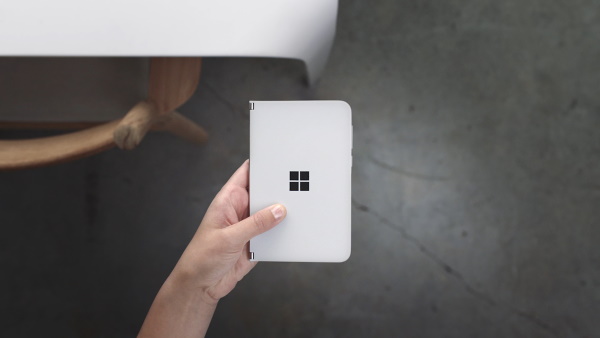 You can also turn one display on the opposite side of the other and use the Surface Duo as a regular smartphone. Or close it altogether to protect the screens. The best thing about the Surface Duo is that it looks thin, unlike some other dual-display devices, like the LG G8X ThinQ.
The software in a device like this is also essential and that's why Microsoft presented the device a year before launch. They are merely waiting to see what the developers can do with their apps to maximize the usage of both displays.
From what they show in the prototype, you can run two apps at once (watch a video and chat at the same time), split one app (Gmail can show the email list on one side and the email itself on another), and put the keyboard or game controls on one of the screens, etc.
The Microsoft Surface Duo will be launched to the public for the holidays 2020.
Image Credit: Microsoft