Exceptional Efficiency: Mercedes-Benz EQXX Traveled 750mi on One Charge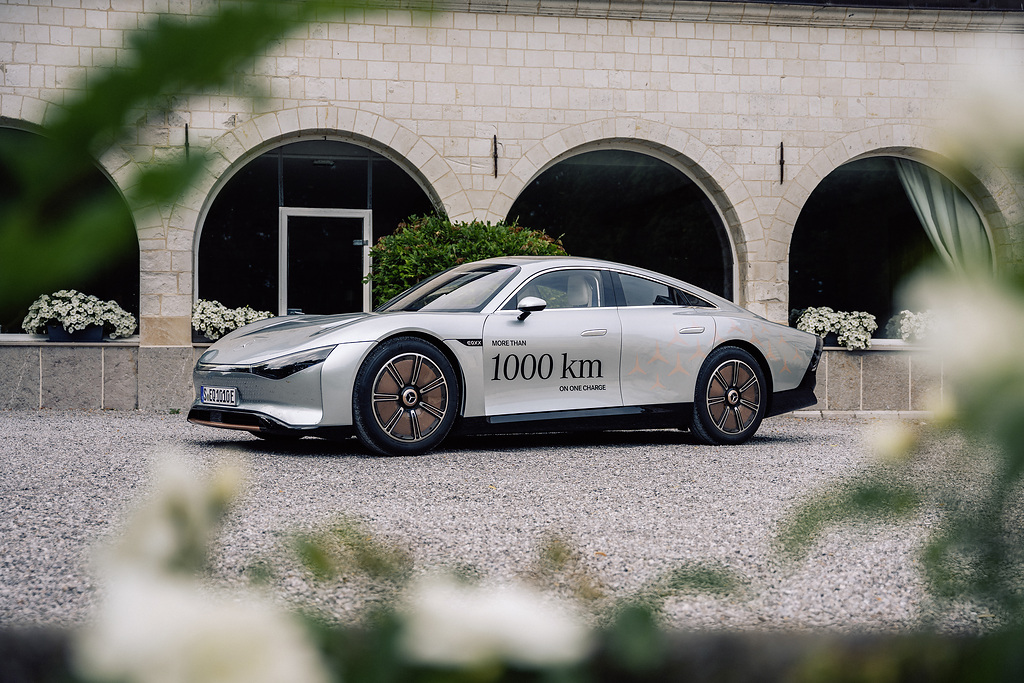 The Mercedes Vision EQXX concept electric vehicle broke its record by traveling 747 mi (1,202 km) from Stuttgart, Germany to Silverstone, England. The previous impressive achievement from this ultra-efficient vehicle was back in April 2022 when on a single charge, the car managed to travel 626 mi (1,008 km) from Stuttgart, across the Swiss Alps, ending in Cassis, France.
The 2-day journey started in Stuttgart, continued to the French border near Strasbourg, and boarded the Eurotunnel in Calais. The 747 mi trip was completed in 14 hours and 30 minutes in everyday driving conditions with a traffic jam and active air conditioning. After breaking the record, the car was handed to the Mercedes EQ Formula E driver Nyck de Vries, who even managed to add another 11 laps, reaching the vehicle's maximum speed of 87 mph (140 km/h) on the iconic Silverstone circuit. After being recharged, the EQXX headed to the Goodwood Festival of Speed.
The EQXX is presented as the pinnacle of automotive efficiency. Mercedes-Benz developed the vehicle with a 100 kWh battery pack and impressive aerodynamic features for achieving a drag coefficient of only 0.17. The maximum power of the single electric motor is 180 kW (241 bhp) with a top speed of 87 mph. Although the weight of 3,869 lbs (1,755 kg)  is not irrelevant, the EQXX returns only 7.5 mi/kWh (8.3 kWh/100km) power consumption, as a result of the innovative thermal management system. The roof has even a solar panel installed, that maximizes the range by powering systems such as the HVAC and the infotainment system.
The 900V battery pack on the other hand has 50% less volume and is 30% lighter than the one on the Mercedes-Benz EQS. Although it is still only a concept, the EQXX presents a new level of technology development and efficiency solutions. Since the battery range is still one of the main concerns that affect potential buyers of electric vehicles, this is proof that future EV driving will be the same experience in terms of range, as conventional vehicles with internal combustion engines nowadays.